By Daisy Luther
Residents of Hawaii received an urgent message to their phones to seek immediate shelter due to an inbound missile. The warning states:
---
Advertisement article continues below
Are you a Deplorable? Check out these "Deplorable" coffee mugs, and start your morning off
right!
Or maybe you want to
build the wall!
Be sure to check out
the biggest and best conservative store on the Internet!
---
BALLISTIC MISSILE THREAT INBOUND TO HAWAII. SEEK IMMEDIATE SHELTER. THIS IS NOT A DRILL. (source)
Twitter erupted with screenshots like the one below.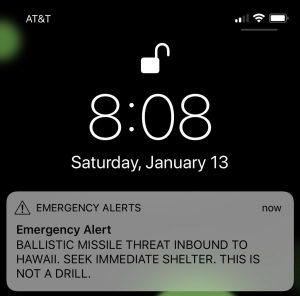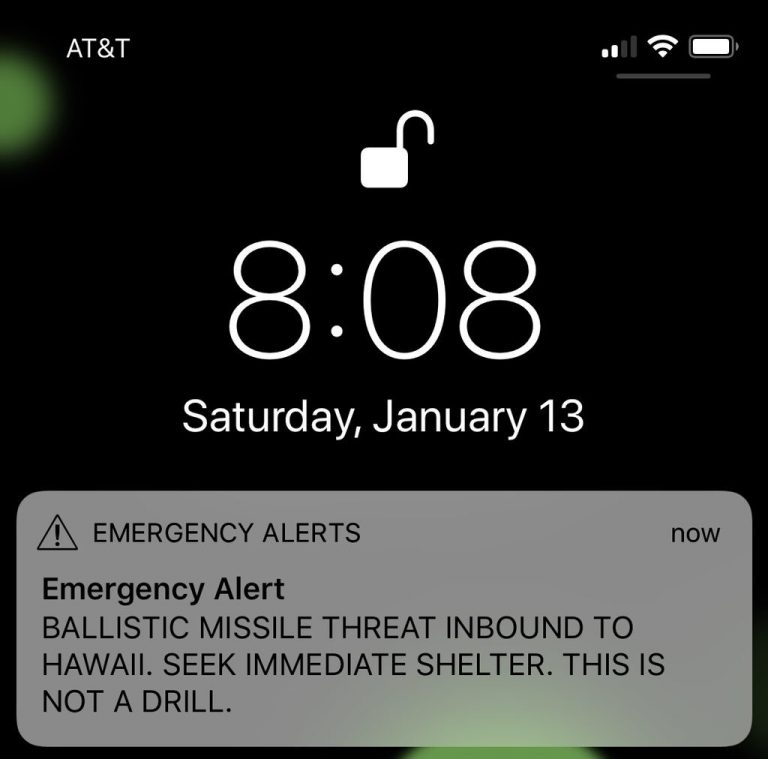 Save
But Hawaii Civil Beat reports that Hawaii Emergency Management has deemed the alert a "mistake."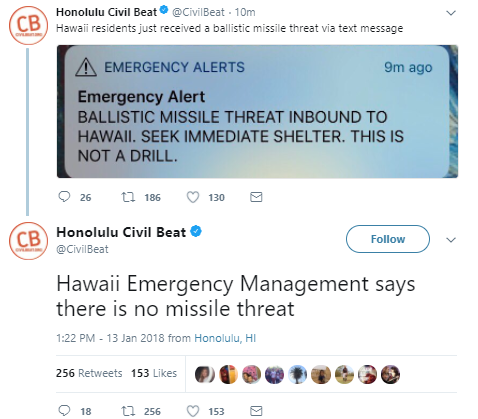 This was confirmed by Hawaii EMA's Twitter account.

There's no word yet on why the false alert was sent out.
Update: Nearly 45 minutes after the initial alert, the system was used again to let people know there was no threat. (source)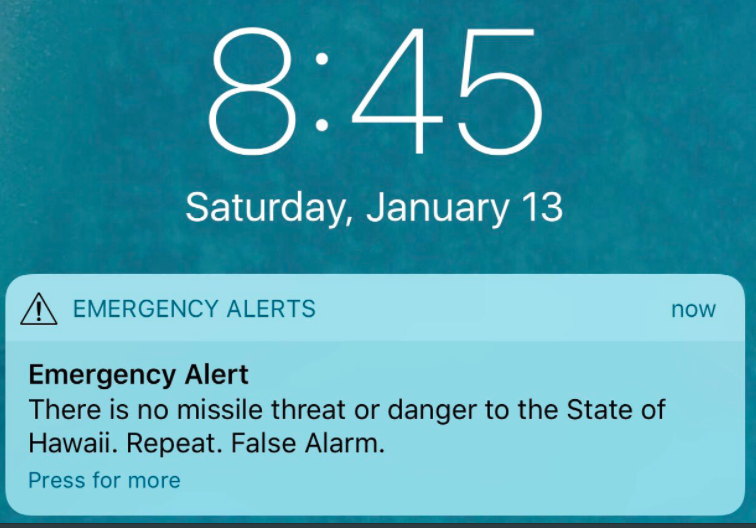 Update 2: The Pacific Coast Command reports that this was all a mistake.
U.S. Pacific Command has detected no ballistic missile threat to Hawaii. Earlier message was sent in error. State of Hawaii will send out a correction message as soon possible.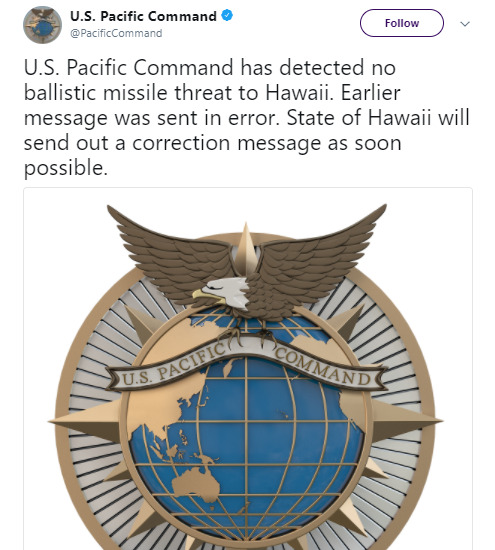 One must wonder how such a panic-inducing mistake of this magnitude could have been made.
Update 3: Politicians are quick to point fingers. Via Zero Hedge…
"It was a false alarm based on human error," Democratic Senator Brian Schatzof Hawaii later said on Twitter, without offering evidence. Schatz said Hawaii's roughly 1.5 million residents were "terrified. There needs to be tough and quick accountability and a fixed process."

"At a time of heightened tensions, we need to make sure all information released to the community is accurate," Senator Mazie Hirono, a Democrat, said on Twitter. "We need to get to the bottom of what happened and make sure it never happens again."

And [Senator Tulsi] Gabbard was then quick to take to MSNBC proclaiming that "our leaders have failed us. Donald Trump is taking too long… he's not taking this [nuclear] threat seriously…"
Update 4: Islanders were panicked by the warning.
Social media users posted videos, photos, and testimonials about residents hurriedly taking up shelter while thinking they were under attack.

 'I was sitting in the bathtub with my children, saying our prayers,' Hawaii state representative Matt LoPresti told CNN in emotional interview after false missile alert.

One Twitter user wrote: 'My family was hiding in the garage. My mom and sister were crying. It was a false alarm, but betting a lot of people are shaken.' (source)
Visitors were also left reeling.
California resident Elizabeth Fong is in Hawaii looking to buy a house and received the alert. She said she didn't receive a correction alert stating it was a false alarm until 8:46 a.m., 39 minutes after the initial alert.

The aftermath of the false alert was "crazy," she told NBC Bay Area, and prompted people to run around on the streets "crying and screaming," wondering what to do.

"I prayed to God and asked for forgiveness of my sins and for Him to protect us," she said, adding that people are still shaken up. (source)
Viewpoints expressed herein are of the article's author(s), or of the person(s) or organization(s) quoted or linked therein, and do not necessarily represent those of True Conservative Pundit
Subscribe to my daily newsletter, and join hundreds of daily readers and receive news and relevant commentary
Don't forget to follow True Conservative Pundit on Facebook and Twitter.  Please help spread the word about us, share our articles on your favorite social networks.
If you value what you see on True Conservative Pundit, please consider donating, any amount helps.

Daisy is a coffee-swigging, gun-toting, homeschooling blogger who writes about current events, preparedness, frugality, and the pursuit of liberty on her websites, The Organic Prepper and DaisyLuther.com She is the author of 4 books and the co-founder of Preppers University, where she teaches intensive preparedness courses in a live online classroom setting. You can follow her on Facebook, Pinterest, and Twitter,.