CNN is commiting media suicide and they're doing it as publicly as they possibly can.
The image that pops into my mind is that of the TV show or movie character who falls into a pit of quicksand and begins to struggle to get out. Sadly, what they always seem to forget is that the struggle is actually causing them to sink into the mire at an ever-increasing rate.
---
Fellow patriots, please listen to this short, inspiring message from General Flynn. General Michael Flynn exemplifies patriotism, courage, and love of God and country - despite some of his own countrymen relentlessly attacking him. Donations for his defense are greatly appreciated. If you can only give $5.00, please do so - every little bit helps. Thank you so much, and God bless. Letter from General Flynn.
---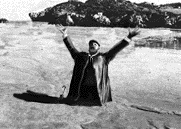 If I had a bit more talent, or time, I would have photoshopped the CNN logo over this guy's head to better prove my point.
In their haste to crucify President Trump, to prove him wrong at every turn, CNN has rushed headlong into a sea of quicksand and instead of stopping, taking stock of their position, and working to extricate themselves from this mess… they are actually driving themselves deeper into the muck.
Whether it's reporter Jim Acosta's constant whining and tear-filled rants about the White House press briefings no longer being video recorded, or it's Chris Cuomo's daily impassioned anti-Trump, pro-media, self-serving soliloquies, or the long train of stories that have been proven false:
The Trump dossier story, the Comey testimony, the Russia story (that even CNN's own call "bull**it" and a "nothing burger"), the retracted Russia investment story, the #CNNBlackmail of an Redditor who made a funny gif, the Ice Cream "story," the Polish handshake fiasco, the countless hours that CNN has spent bashing President Trump, and more… all of these things are working together to destroy the once "most important name in news."
https://twitter.com/HashtagGriswold/status/872548753890299904
What's worse for CNN is that we're starting to see the fallout from their ethical and journalistic collapse in the ratings:
CNN has fallen to #13 in cable TV rankings, according to weekly numbers posted on Thursday by TV Newser.

The ratings slide comes as the network has come under heavy scrutiny for a variety of journalistic missteps, including the retraction of an article alleging that a Trump associate had illicit Russian business ties.

Fox News and MSNBC are listed as first and second, respectively, in the cable rankings, which measured average audience sizes for the period between June 26 and July 2. Fox News drew an audience of around 1.82 million while MSNBC drew an audience of 1.34 million. CNN had only 711,000 viewers on an average day during the measurement period.
CNN has fallen so low that they now slide in BEHIND Nick-At-Nite!
https://twitter.com/dan_themandan/status/883181927770996736
#CNN pic.twitter.com/3On8kuaXXX

— Valerie NYC1 (@ValerieNYC1) July 7, 2017
The simple, sad truth is that CNN did this all to themselves. In their headlong rush to "defeat" President Trump they forgot (or ignored) the things they learned in their journalism classes. The chose to treat the President as an enemy instead of choosing to treat the stories just as they had any other story before the Trump era. When the President hit back at them, something they were unused to, CNN tried to beat him at his own game… and failed. Let this be a lesson for the rest of the mainstream media – stop making yourself part of the story. It's time for the media to get back to doing real journalism, and stop treating Trump and the GOP like they didn't get more than 60 million votes in the last election.
Republished with permission Constitution.com