Dating back to the presidency of Dwight Eisenhower foreign intelligence has dedicated "desks" solely to monitor the health, behavior, habits, and emotional/psychological profiles on the American President.  After-all, much historically has rested on the shoulders of the President of the United States; namely, the safety and over-all wellbeing of the free world.  Enemies and bullies of the western alliances also were interested as to how and when they might test the resolve of the American President based, in part, on their continuing monitoring of the President's personal strengths and not merely his political strengths.  America's standing as the undisputed leader of the free world is greatly being questioned today, and the election in a mere couple of months will have a mammoth repercussion world-wide.  The growing evidence that something is seriously medically concerning with Hillary Clinton is not restricted to the backrooms and parlors of political Elite's and "Inside the Belt-way" Georgetown, mere blocks from the U.S. Capitol, but murmurs are rapidly turning into public discussions across the country.
---
Fellow patriots, please listen to this short, inspiring message from General Flynn. General Michael Flynn exemplifies patriotism, courage, and love of God and country - despite some of his own countrymen relentlessly attacking him. Donations for his defense are greatly appreciated. If you can only give $5.00, please do so - every little bit helps. Thank you so much, and God bless. Letter from General Flynn.
---
Mentioned below is a quick reading report from Europe discussing how Foreign Intelligence Services within the Kremlin are profiling Hillary Clinton's questionable health.  Intelligence services do not concern themselves with being politically correct, they concern themselves with simply being correct.  Intelligence analysis is an "art" as well as a discipline, and one who delivers such services does not have the luxury of being wrong often – if at all.  I thought you might like to read what the mainstream conventional media in America is choosing NOT to report, much less investigate and ask serious questions.  This topic is not merely a conspiracy theory or political fodder. The topic of a candidate for the Presidency of the United States and Leader of the Free World's health is a legitimate and sobering question very worthy of examination.
LJR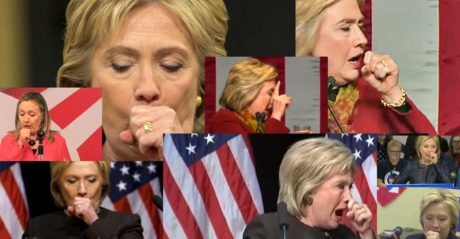 A shocking Foreign Intelligence Service (SVR) report circulating in the Kremlin today is warning that US presidential candidate Hillary Clinton is just months away from experiencing a critical "heart failure event" brought on by her years of alcohol abuse that have led to her having Congestive Heart Failure (CHF) and is now causing her to have uncontrollable "coughing fits" for which she has been prescribed powerful blood thinners to prevent her blood from clotting, but that now appear to be failing. [Note: Some words and/or phrases appearing in quotes in this report are English language approximations of Russian words/phrases having no exact counterpart.]
According to this report, SVR analysts have long known about Hillary Clinton's alcohol abuse that began to cause her serious problems in 2005 when she was a US Senator and "fell over drunk" prior to giving a speech in Buffalo, New York—and that accelerated during her 2008 presidential campaign with New York Times reporter Amy Chozick telling ABC News at the time that she was surprised by the extent of Clinton's drinking when she began covering her: "She likes to drink. We were on the campaign trail in 2008 and the press thought she was just taking shots to pander to voters in Pennsylvania. Um, no."
Shortly after losing her presidential bid and becoming US Secretary of State, this report continues, Clinton was found passed out in her Washington D.C. office, was treated at a State Department clinic and then sent home to recover—but shortly afterward, in June 2009, she fell over drunk, again, just prior to her meeting with the famous American actress Angelina Jolie breaking her elbow to such an extent she needed surgery to repair it.
Since 2009, this report says, Hillary Clinton travels with a full-time physician, who "keeps her under constant observation", and "takes a medicine-cabinet full of drugs to prevent recurring blood clots", but has had to run her current presidential campaign by remaining in near virtual seclusion, except from those giving her millions of dollars—and "special" drinks of water.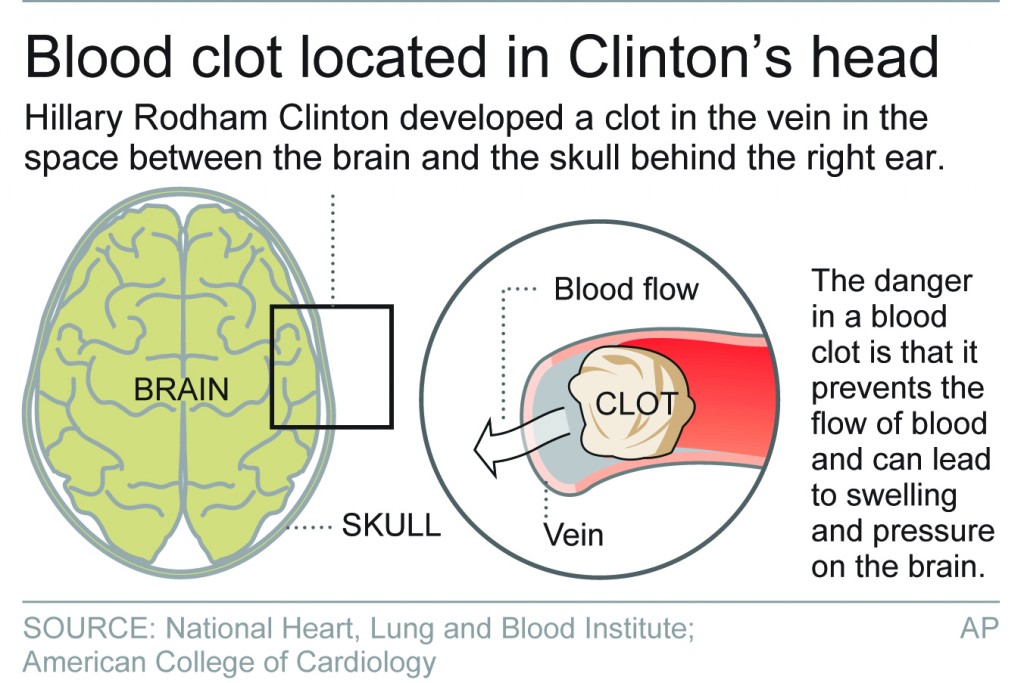 As to why Hillary Clinton has had to remain shielded from the public, this report notes, is due to one of the most common symptoms of congestive heart failure called "coughing fits", and that even though the US propaganda media has continued to cover-up these "coughing fits" since this past February, and even until today, the American people are beginning to become alarmed.
SVR medical analysts in this report note that coughing is a symptom and not a disease on its own, and is classified as acute when it lasts for less than 3 weeks, subacute when it persists for more than 3 weeks and chronic if it is ongoing for 8 weeks or more as it is with Hillary Clinton and these experts claim is being directly caused by her cardiac disease.
To the extent the US propaganda media is covering up Hillary Clinton's grave health condition, this report continues, was exampled yet again yesterday when she had two coughing fits, the longest lasting during a public campaign appearance—and that the MSNBC news network immediately blacked out so their viewers couldn't see it, and that other of these Clinton media supporters blamed on a high pollen count, but was quickly exposed as a lie as the region she was in had an exceptionally low pollen count.
With the US propaganda media continuing their cover-up of Hillary Clinton's grave heart condition, this report concludes, they, likewise, have continued their Soviet style disinformation campaign against Donald Trump, thus leading the SVR to question if American mainstream reporters are even able to be honest about anything anymore.
SOURCE: The European Union Times
LYLE J. RAPACKI, Ph.D. is an Intelligence and Threat Assessment Specialist who has provided intelligence briefings and consultations to selected members of the Arizona State Legislature on Border Security, Deviant Movement Groups, and threats to State sovereignty from May 2010 thru April of 2018.  Dr. Rapacki's reports, briefings and consultations have enlarged to include elected and law enforcement officials across the country.  Lyle believes he is now being directed to sound the Shofar of Warning to the Remnant Church of the challenges and threats directed ahead.  He is the author of the successful and quick reading Amazon books: "Our Forefathers truly Appealed to Heaven" $10, Amazon Kindle E-books $7.