Written by
Matan Tzuri, Yoav Zitun, Itay Blumenthal, Elior Levy, Moran Azulay
Code red sirens sounded in Ashdod and Lachish near Kiryat Gat in southern Israel Tuesday evening just after 9 p.m. An IDF Spokesperson confirmed that one rocket fired from Gaza had landed near Gan Yavne.
---
Fellow patriots, please listen to this short, inspiring message from General Flynn. General Michael Flynn exemplifies patriotism, courage, and love of God and country - despite some of his own countrymen relentlessly attacking him. Donations for his defense are greatly appreciated. If you can only give $5.00, please do so - every little bit helps. Thank you so much, and God bless. Letter from General Flynn.
---
Tuesday's attack was the first time since last year's 50-day Operation Protective Edge in Gaza that a Grad rocket was fired into Israeli territory. It was initially unclear who was responsible for the rocket fire, but an IDF source said, "We hold Hamas responsible for everything that happens in the Strip."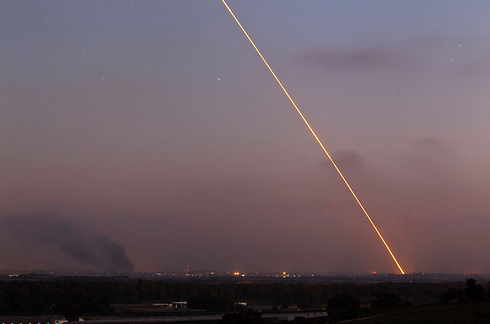 Photo: Reuters/Archive
Police said that there were no reports of injuries or damage sustained in the attack.
Hamas media outlets reported that the organization began evacuating all its security headquarters for fear of an Israeli reprisal to the attack. The evacuation was expected to continue into the morning hours.
The IDF confirmed the attack and that the rocket had landed in an open area, but said that it had not yet been found.
One resident in Lachish said, "There was a siren and we heard a big explosion." A woman in Be'er Tuvia however, just several kilometers from Gan Yavne and the site where the rocket reportedly struck said, "I didn't here any sirens, just a really loud explosion."
Another resident from Kibbutz Hatzor said, "We heard a really loud explosion, so loud that the walls of our house shook. It was really scary."
Zionist Union MK Omer Bar-Lev, a member of the Foreign Affairs and Defense Committee, recently warned that Hamas had resumed digging tunnels and that at least one may have already crossed the border into Israeli territory.
SOURCE: Ynet News
About the author: Greg is a strong believer in Jesus Christ and is also a political analyst, author, and is the Editor-in-Chief for the National War Council.  By day he is a self-employed non-emergency medical transport driver, as well as being an author and blogger.  His articles are first published on TCP News and Inspirational Christian Blogs, and from there the articles are widely published on many well-known conservative websites.  If you would like to republish his articles, please feel free to do so leaving all links intact and crediting the author and the website that the article appeared on.  Greg is the author of the newly released book: Spiritual Darkness is Destroying America and the Church.  Subscribe to my daily newsletter, and join hundreds of daily readers and receive news and relevant commentary. Don't forget to follow TCP News on Parler, USA Life, Gab, Facebook, and Twitter