Aides to PA president say Abbas has grown disillusioned after 2 decades of failed efforts to reach a peace accord with Israel; Abbas says while this is 'an unconventional solution,' he 'will not declare war on Israel.'
---
Fellow patriots, please listen to this short, inspiring message from General Flynn. General Michael Flynn exemplifies patriotism, courage, and love of God and country - despite some of his own countrymen relentlessly attacking him. Donations for his defense are greatly appreciated. If you can only give $5.00, please do so - every little bit helps. Thank you so much, and God bless. Letter from General Flynn.
---
Associated Press
RAMALLAH – Aides to the Palestinian president said Sunday that he will soon appeal to the international community to set a deadline for Israel to end its occupation of lands captured in the 1967 Six-Day War and make way for an independent Palestinian state.
The aides said President Mahmoud Abbas would present his proposal as part of a "day after" plan following the end of the current war in the Gaza Strip. Abbas is expected to unveil his plan at a meeting of the Palestinian leadership on Tuesday. The officials spoke on condition of anonymity because he has not yet made the plan public.
One official said that Abbas has grown disillusioned after two decades of failed efforts to reach a negotiated peace settlement with Israel. He said the Palestinians want a fixed date for an Israeli withdrawal from lands claimed by the Palestinians and a timetable for establishing a Palestinian state.
"This should be done through a mechanism to compel Israel as the occupying power to end its occupation and agree on a timetable for the implementation of the withdrawal," he said.
With Israel at war with Hamas militants in Gaza, Abbas has been searching for ways to assert himself on the international stage. He is seeking a foothold back in Gaza, which was captured from his forces by Hamas seven years ago, and is eager to show the Palestinian public he is working to end the fighting and lead the Palestinians to independence.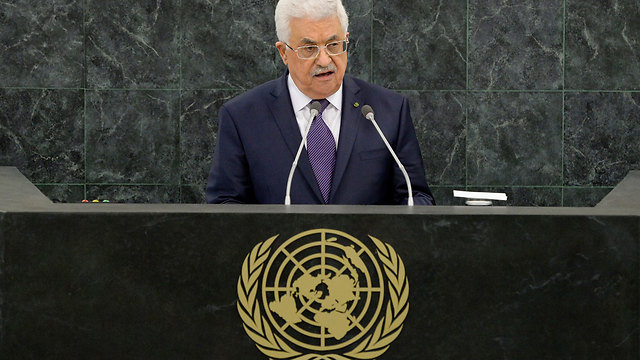 PA President Abbas speaking in front of the UN General Assembly (Photo: EPA)
In an interview on Egyptian television over the weekend, Abbas said he would soon present his plans to Arab, American and European leaders.
"It is an unconventional solution, but I will not declare a war on Israel. It is a political and diplomatic solution," he said.
He declined to elaborate, saying only that he would tell the United Nations in an address next month that the Palestinians want independence immediately. "Otherwise, this opportunity will be lost forever," he said.
An aide to Abbas said the plan would include an appeal to the Security Council to call for an end to Israel's occupation of lands captured in the 1967 Six-Day War.
The Palestinians seek the West Bank, East Jerusalem and Gaza for their state. Israel captured all three areas in 1967, though it withdrew from Gaza in 2005.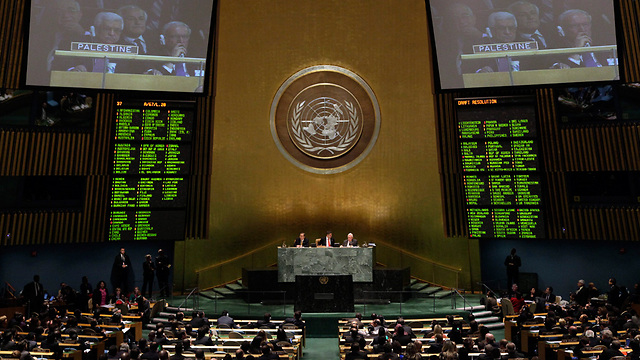 UN General Assembly votes on accepting Palestine as 'non-member observer state' in November 2012 (Photo: AP)
In a meeting in Qatar over the weekend, Abbas and Hamas leader Khaled Mashal agreed to set a timetable for "the end of the Israeli occupation" and the removal of the Gaza blockade.
The Qatari news agency reported the two also agreed to work to achieve a UN resolution that would bring to the establishment of a Palestinian state in the 1967 borders with East Jerusalem as its capital.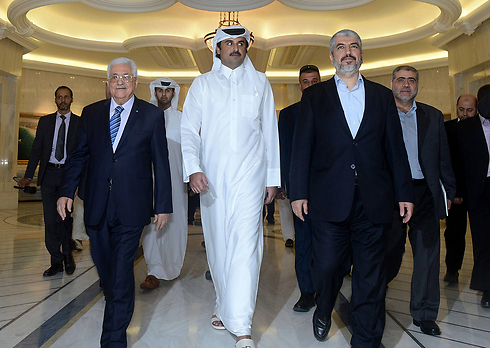 Abbas (left) and Khaled Mashal (right) in Doha with the Emir of Qatar (Photo: AFP)
With Israel opposed to a withdrawal to its pre-1967 lines, it will likely seek US help in thwarting the bid. The US has historically vetoed Security Council resolutions seen as unfavorable to Israel.
The Palestinian official said that if this happens, the Palestinians will then begin the process of joining the International Criminal Court, where they could pursue war crimes charges against Israel.
Israel strongly opposes Palestinian attempts to pursue independence at the United Nations, saying it is an attempt to circumvent the negotiating process. Prime Minister Benjamin Netanyahu's office declined comment on the latest Palestinian plans, saying it wanted to receive details officially.
SOURCE: Ynetnews
About the author: Greg is a strong believer in Jesus Christ and is also a political analyst, author, and is the Editor-in-Chief for the National War Council.  By day he is a self-employed non-emergency medical transport driver, as well as being an author and blogger.  His articles are first published on TCP News and Inspirational Christian Blogs, and from there the articles are widely published on many well-known conservative websites.  If you would like to republish his articles, please feel free to do so leaving all links intact and crediting the author and the website that the article appeared on.  Greg is the author of the newly released book: Spiritual Darkness is Destroying America and the Church.  Subscribe to my daily newsletter, and join hundreds of daily readers and receive news and relevant commentary. Don't forget to follow TCP News on Parler, USA Life, Gab, Facebook, and Twitter