Do you know why there are no atheists in Hell?
"Wherefore God also hath highly exalted him, and given him a name which is above every name: That at the name of Jesus every knee should bow, of things in heaven, and things in earth, and things under the earth; And that every tongue should confess that Jesus Christ is Lord, to the glory of God the Father." Philippians 2:9-11
---
Fellow patriots, please listen to this short, inspiring message from General Flynn. General Michael Flynn exemplifies patriotism, courage, and love of God and country - despite some of his own countrymen relentlessly attacking him. Donations for his defense are greatly appreciated. If you can only give $5.00, please do so - every little bit helps. Thank you so much, and God bless. Letter from General Flynn.
---
A new television show launched yesterday August 7th on the Adult Swim channel entitled 'Black Jesus', and it is an monumental piece of demonically-inspired garbage that's completely perfect for the Laodicean church age that we find ourselves in.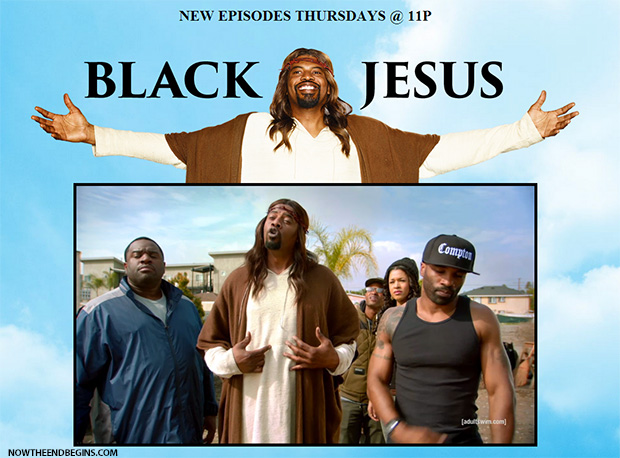 Our review of this program, such as it is, will be a brief one. After I started watched the episode, alternating feelings nausea and anger took their turns welling up in me and I was unable to watch for very long. But suffice it to say this much.
This show portrays the Lord and Saviour of all mankind as a ghetto god who drinks beer from a paper bag, uses foul and filthy words, gets into street fights, and is just as much of a sinner as are the people he is "ministering" to. It's exactly the type of show that you would expect Judas to make.
Hollywood has learned a long time ago that you can produce any show or movie that mocks God as long as you present it as "free speech" and as "artistic expression". If you call yourself a Christian and can watch this show, shame on you.
Click here to meet the real Jesus…
SOURCE: Now The End Begins
About the author: Greg is a strong believer in Jesus Christ and is also a political analyst, author, and is the Editor-in-Chief for the National War Council.  By day he is a self-employed non-emergency medical transport driver, as well as being an author and blogger.  His articles are first published on TCP News and Inspirational Christian Blogs, and from there the articles are widely published on many well-known conservative websites.  If you would like to republish his articles, please feel free to do so leaving all links intact and crediting the author and the website that the article appeared on.  Greg is the author of the newly released book: Spiritual Darkness is Destroying America and the Church.  Subscribe to my daily newsletter, and join hundreds of daily readers and receive news and relevant commentary. Don't forget to follow TCP News on Parler, USA Life, Gab, Facebook, and Twitter