Do you know why there are no atheists in Hell?
"Wherefore God also hath highly exalted him, and given him a name which is above every name: That at the name of Jesus every knee should bow, of things in heaven, and things in earth, and things under the earth; And that every tongue should confess that Jesus Christ is Lord, to the glory of God the Father." Philippians 2:9-11
A new television show launched yesterday August 7th on the Adult Swim channel entitled 'Black Jesus', and it is an monumental piece of demonically-inspired garbage that's completely perfect for the Laodicean church age that we find ourselves in.
---
Advertisement article continues below
Are you a Deplorable? Check out these "Deplorable" coffee mugs, and start your morning off
right!
Or maybe you want to
build the wall!
Be sure to check out
the biggest and best conservative store on the Internet!
---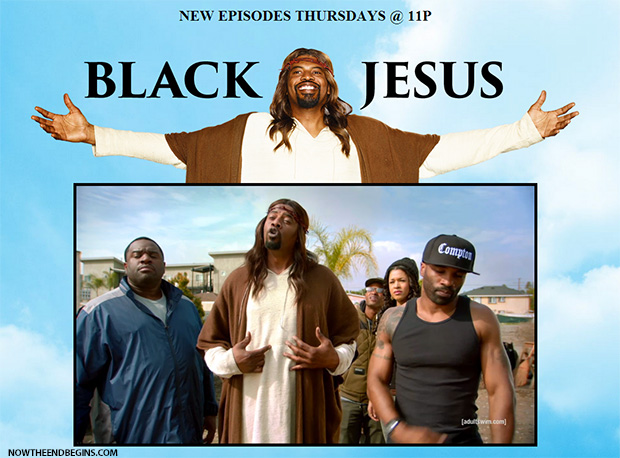 Our review of this program, such as it is, will be a brief one. After I started watched the episode, alternating feelings nausea and anger took their turns welling up in me and I was unable to watch for very long. But suffice it to say this much.
This show portrays the Lord and Saviour of all mankind as a ghetto god who drinks beer from a paper bag, uses foul and filthy words, gets into street fights, and is just as much of a sinner as are the people he is "ministering" to. It's exactly the type of show that you would expect Judas to make.
Hollywood has learned a long time ago that you can produce any show or movie that mocks God as long as you present it as "free speech" and as "artistic expression". If you call yourself a Christian and can watch this show, shame on you.
Click here to meet the real Jesus…
SOURCE: Now The End Begins
Viewpoints expressed herein are of the article's author(s), or of the person(s) or organization(s) quoted or linked therein, and do not necessarily represent those of True Conservative Pundit
Subscribe to my daily newsletter, and join hundreds of daily readers and receive news and relevant commentary
Don't forget to follow True Conservative Pundit on Facebook and Twitter.  Please help spread the word about us, share our articles on your favorite social networks.
If you value what you see on True Conservative Pundit, please consider donating, any amount helps.

Since 2013, True Conservative Pundit has featured the insightful writing and reporting of Greg Holt.  His writing has been featured on American Prophet, Conservative Firing Line, DC Clothesline, Godfather Politics, Capitol Hill Outsider, Sons of Liberty Media, Rev. Austin Miles, and others.  Greg is also the Publisher and Editor of Inspirational Christian Blogs.
Subscribe to my daily newsletter, and join hundreds of daily readers and receive news and relevant commentary
Follow TCP on Facebook, Twitter, Pinterest, Social Cross and Gab