---
Fellow patriots, please listen to this short, inspiring message from General Flynn. General Michael Flynn exemplifies patriotism, courage, and love of God and country - despite some of his own countrymen relentlessly attacking him. Donations for his defense are greatly appreciated. If you can only give $5.00, please do so - every little bit helps. Thank you so much, and God bless. Letter from General Flynn.
---
A most unusual legacy for the "peace president"
*This story was originally published on September 16th, 2013, and has been updated with this weekend's mass shooting.
When you add up the numbers, a very disturbing picture of Obama's presidency begins to unfold. He was elected as the "racial uniter", the Nobel Peace Prize president who was going to "stop the rise of the oceans" and "heal our planet."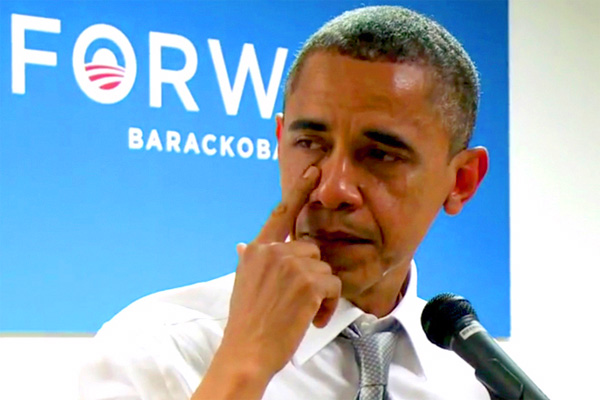 Yet his 5 and one half years of occupying the desk at 1600 Pennsylvania Avenue hide a sinister statistic – America has had 16 mass shootings since he became president, and this weekend's shooting in California now brings that total to 17. And since this is a list of shootings only, it does not include the Boston Bombing Massacre that Obama used to roll out martial law for a 24-hour period in Boston.
How do you explain that?
A list of the 17 American mass shootings since 2009:
May 23, 2014 — University of California, Santa Barbara. – 7 dead (including gunman). A drive-by shooter went on a nighttime rampage near a Santa Barbara university campus that left seven people dead, including the attacker, and seven others wounded, authorities said Saturday. President Obama, as of this writing, has not issued an official statement or comment on the shootings.
September 16, 2013 – Navy Shipyard, Washington. – 10 shot and wounded (including gunman). Gunfire was reported fired at approximately 8.20 a.m. and police SWAT teams entered building number 197 at the base headquarters in an attempt to apprehend the shooter who is reported to be armed with an AR-15 assault rifle. President Obama gave an emotional address, calling for "meaningful action"
Here are the other 15 shootings since 2009:
December 14, 2012 — Newtown, Conn. – 27 dead (including gunman). The shooting at Sandy Hook Elementary on Friday was the second-deadliest school shooting in U.S. history, leaving 27 dead — including 20 young children. President Obama gave an emotional address, calling for "meaningful action"
September 27, 2012 — Minneapolis, Minn. – 7 dead (including gunman), 2 injured. Andrew John Engeldinger, a recently laid off employee of Accent Signage Systems, entered the office building and opened fire. (No public comments from the president.)
August 5, 2012 — Oak Creek, Wis. – 7 dead (including gunman), 4 injured. White supremacist Wade Michael Page entered a Sikh Temple, opening fire on congregants. He later shot and injured a police officer responding to the scene.
July 20, 2012 — Aurora, Colo. — 12 dead, 59 injured. During a midnight screening of "The Dark Knight Rises," a gunman opened fire on the suburban Denver movie theater, killing 12 and injuring dozens of others. Two days later, Obama delivered a ten-minute speech from the University of Colorado that made no mention of gun control.
May 31, 2012 — Seattle, Wash.
– 6 dead
(including gunman). A man opened fire in a cafe, 
fatally wounding four people
, then killed another in a carjacking before killing himself.
(No public comments from the president.)

April 2, 2012 — Oakland, Calif. — 7 dead. A former student of Oikos University, a Korean college, entered a building on the campus and shot repeatedly at random targets. (No public comments from the president)
October 12, 2011 — Seal Beach, Calif. — 8 dead, 1 injured.
 Scott Evans Dekraai, 41, stormed a hair salon where his ex-wife worked and 
killed eight people
.
(No public comments from the president.)
10). August 3, 2010 — Manchester, Conn. — 9 dead (including gunman), 2 injured.
 A driver for Hartford Distributors 
killed eight people and then himself 
in this workplace shooting. 
(No public comments from the president.)
About the author: Greg is a strong believer in Jesus Christ and is also a political analyst, author, and is the Editor-in-Chief for the National War Council.  By day he is a self-employed non-emergency medical transport driver, as well as being an author and blogger.  His articles are first published on TCP News and Inspirational Christian Blogs, and from there the articles are widely published on many well-known conservative websites.  If you would like to republish his articles, please feel free to do so leaving all links intact and crediting the author and the website that the article appeared on.  Greg is the author of the newly released book: Spiritual Darkness is Destroying America and the Church.  Subscribe to my daily newsletter, and join hundreds of daily readers and receive news and relevant commentary. Don't forget to follow TCP News on Parler, USA Life, Gab, Facebook, and Twitter