Fellow patriots, please listen to this short, inspiring message from General Flynn. General Michael Flynn exemplifies patriotism, courage, and love of God and country - despite some of his own countrymen relentlessly attacking him. Donations for his defense are greatly appreciated. If you can only give $5.00, please do so - every little bit helps. Thank you so much, and God bless. Letter from General Flynn.
---
Moscow (AFP) – A United States surveillance drone has been intercepted above the Ukranian region of Crimea, a Russian state arms and technology group said Friday.
"The drone was flying at about 4,000 metres (12,000 feet) and was virtually invisible from the ground. It was possible to break the link with US operators with complex radio-electronic" technology, said Rostec in a statement.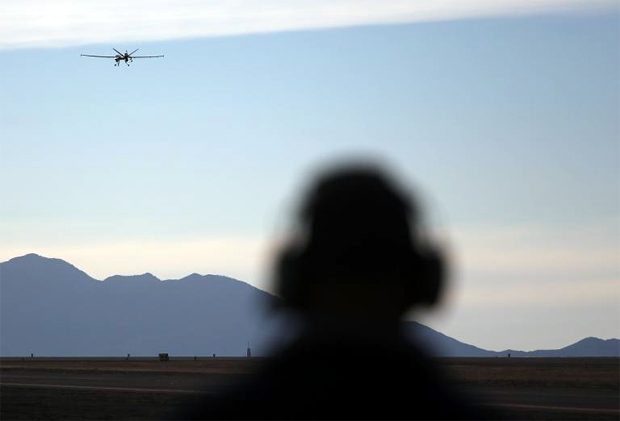 "The drone fell "almost intact into the hands of self-defence forces" added Rostec, which said it had manufactured the equipment used to down the aircraft, but did not specify who was operating it.
"Judging by its identification number, UAV MQ-5B belonged to the 66th American Reconnaissance Brigade, based in Bavaria," Rostec said on its website, which also carried a picture of what it said was the captured drone.
The photograph appeared to show an apparently armed drone in flight, rather than debris. The Crimean port of Sevastopol is home to Russia's Black Sea Fleet, which is believed to be equipped with detection equipment.
Crimea, where pro-Kremlin forces have control, is to hold a referendum on Sunday on the peninsula joining Russia, in what Moscow says is a fair expression of self identity but the West views as an illegal annexation of sovereign territory. source – Yahoo News
Please Spread the Word and Share This Post
Viewpoints expressed herein are of the article's author(s), or of the person(s) or organization(s) quoted or linked therein, and do not necessarily represent those of True Conservative Pundit
TCP News is an Amazon affiliate, by clicking certain links contained within posts, TCP may or may not earn a commission.
Another way you can support us is to purchase my book.
Subscribe to my daily newsletter, and join hundreds of daily readers and receive news and relevant commentary
Don't forget to follow True Conservative Pundit on Facebook, Gab, Spreely, USA Life, and Twitter
If you value what you see on True Conservative Pundit, please consider donating, any amount helps