---
Fellow patriots, please listen to this short, inspiring message from General Flynn. General Michael Flynn exemplifies patriotism, courage, and love of God and country - despite some of his own countrymen relentlessly attacking him. Donations for his defense are greatly appreciated. If you can only give $5.00, please do so - every little bit helps. Thank you so much, and God bless. Letter from General Flynn.
---
Ever hear of a Jewish 'suicide bomber'? Nope, me neither.
RT: Two blasts near the Iranian embassy in Beirut killed at least 23 people, injuring 146 and causing havoc and a massive fire in the Lebanese capital. Six buildings were reportedly destroyed in the embassy compound.
The harrowing scene was primarily caused by 100lb (50kg) of explosives loaded into a car, according to AP. Security sources on the ground said there were two blasts – the first caused by a person on a motorbike carrying some 4.4lbs (2kg) of explosive, while the second was by a suicide bomber who tried to ram the compound with the car.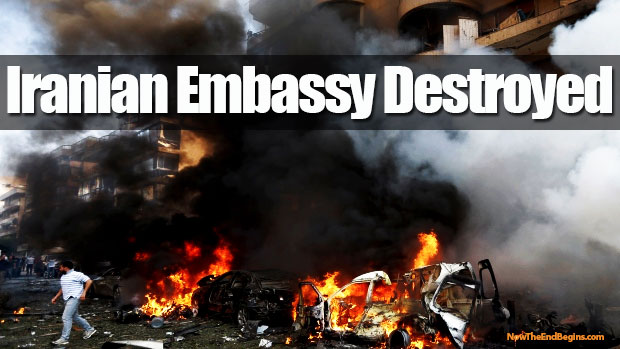 However, there are conflicting reports as to how the initial blast unfolded. Eyewitnesses claimed that a man was mounted on a motorbike, while a Lebanese official told Reuters that the man wearing an explosives belt was seen rushing towards the embassy's outer wall before blowing himself up.
Witnesses at the scene reported that the explosions occurred within one or two minutes of each other.
Injured people and destroyed buildings were seen on very disturbing pictures circulated by Lebanese media in the immediate aftermath.
Witnesses speaking to Al Arabiya reported seeing smoke rising from the battered embassy compound, while footage from the bloody scene showed raging fires, with the death toll rising by the minute.
It is not clear who was behind the attack at this time, but the area where the blasts occurred is significant in two ways:  it is considered to be a stronghold for the Lebanese Shiite faction, Hezbollah. And secondly, it is a popular area and a home to many families of Iranian diplomats working in Lebanon.
The Iranian ambassador to Lebanon reacted promptly to the situation, saying that it was beyond any doubt that the embassy was the target of the attack and placing blame on a "Zionist entity." He added that such attacks only "keep us strong and proves the righteousness of our stances."  Minutes before it was reported that the Iranian cultural adviser for Lebanon was wounded in the blast, but shortly thereafter succumbed to his injuries.
Later in the day Al-Manar found out that the Yemeni ambassador was lightly injured in the blasts.
Iran's foreign ministry subsequently added that the blast was the work of Israeli mercenaries. Syrian information minister Omran Zoabi to Al-Manar has come out with a similar opinion, saying that Israeli and Saudi intelligence are behind the explosions. Later in the afternoon Reuters reported that Al-Qaeda-linked Abdullah Azzam brigades have claimed responsibility for the double suicide bombing.  source – RT
About the author: Greg is a strong believer in Jesus Christ and is also a political analyst, author, and is the Editor-in-Chief for the National War Council.  By day he is a self-employed non-emergency medical transport driver, as well as being an author and blogger.  His articles are first published on TCP News and Inspirational Christian Blogs, and from there the articles are widely published on many well-known conservative websites.  If you would like to republish his articles, please feel free to do so leaving all links intact and crediting the author and the website that the article appeared on.  Greg is the author of the newly released book: Spiritual Darkness is Destroying America and the Church.  Subscribe to my daily newsletter, and join hundreds of daily readers and receive news and relevant commentary. Don't forget to follow TCP News on Parler, USA Life, Gab, Facebook, and Twitter