---
Fellow patriots, please listen to this short, inspiring message from General Flynn. General Michael Flynn exemplifies patriotism, courage, and love of God and country - despite some of his own countrymen relentlessly attacking him. Donations for his defense are greatly appreciated. If you can only give $5.00, please do so - every little bit helps. Thank you so much, and God bless. Letter from General Flynn.
---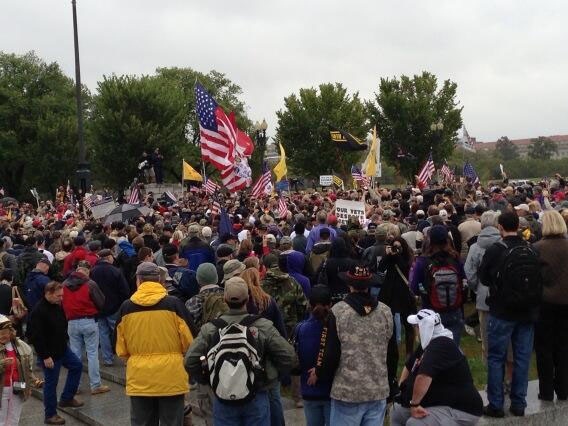 WASHINGTON – Thousands of people converged on the World War II Memorial on the National Mall on Sunday morning and tore down the barricades blocking it off, protesting the closure of the memorial during the federal government shutdown.
Beginning at about 9:30 a.m., Sens. Mike Lee, R-Utah, and Ted Cruz, R-Texas, as well as former Alaska Gov. Sarah Palin, were among the luminaries in a crowd that chanted "Tear down these walls!" and sang "God Bless America" as well as other patriotic songs as they entered the memorial, which has been closed since the government shutdown that began Oct. 1.
Tractor-trailers headed down 17th Street toward the Mall, blaring their horns. The Metropolitan Police Department blocked off the street, prompting the crowd to head up the street, shouting at the police to move their vehicles.
Cruz said that President Obama was using veterans as political pawns in the shutdown.
By 11 a.m., the group had headed back to the memorial, and dozens congregated around World War II veterans, shaking their hands and thanking them for their service.
Later in the morning, veteran Mike Lauriente was accepting handshakes from demonstrators. He served in Sicily and French Morocco, and declared the memorial, which he was seeing for the first time, beautiful. "The spirit that I see here is overwhelming." source – WTOP
About the author: Greg is a strong believer in Jesus Christ and is also a political analyst, author, and is the Editor-in-Chief for the National War Council.  By day he is a self-employed non-emergency medical transport driver, as well as being an author and blogger.  His articles are first published on TCP News and Inspirational Christian Blogs, and from there the articles are widely published on many well-known conservative websites.  If you would like to republish his articles, please feel free to do so leaving all links intact and crediting the author and the website that the article appeared on.  Greg is the author of the newly released book: Spiritual Darkness is Destroying America and the Church.  Subscribe to my daily newsletter, and join hundreds of daily readers and receive news and relevant commentary. Don't forget to follow TCP News on Parler, USA Life, Gab, Facebook, and Twitter