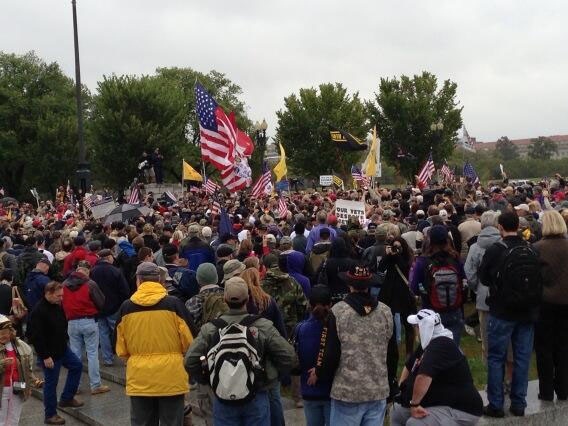 ---
Advertisement article continues below
Are you a Deplorable? Check out these "Deplorable" coffee mugs, and start your morning off
right!
Or maybe you want to
build the wall!
Be sure to check out
the biggest and best conservative store on the Internet!
---
WASHINGTON – Thousands of people converged on the World War II Memorial on the National Mall on Sunday morning and tore down the barricades blocking it off, protesting the closure of the memorial during the federal government shutdown.
Beginning at about 9:30 a.m., Sens. Mike Lee, R-Utah, and Ted Cruz, R-Texas, as well as former Alaska Gov. Sarah Palin, were among the luminaries in a crowd that chanted "Tear down these walls!" and sang "God Bless America" as well as other patriotic songs as they entered the memorial, which has been closed since the government shutdown that began Oct. 1.
Tractor-trailers headed down 17th Street toward the Mall, blaring their horns. The Metropolitan Police Department blocked off the street, prompting the crowd to head up the street, shouting at the police to move their vehicles.
Cruz said that President Obama was using veterans as political pawns in the shutdown.
By 11 a.m., the group had headed back to the memorial, and dozens congregated around World War II veterans, shaking their hands and thanking them for their service.
Later in the morning, veteran Mike Lauriente was accepting handshakes from demonstrators. He served in Sicily and French Morocco, and declared the memorial, which he was seeing for the first time, beautiful. "The spirit that I see here is overwhelming." source – WTOP
Viewpoints expressed herein are of the article's author(s), or of the person(s) or organization(s) quoted or linked therein, and do not necessarily represent those of True Conservative Pundit
Subscribe to my daily newsletter, and join hundreds of daily readers and receive news and relevant commentary
Don't forget to follow True Conservative Pundit on Facebook and Twitter.  Please help spread the word about us, share our articles on your favorite social networks.
If you value what you see on True Conservative Pundit, please consider donating, any amount helps.

Since 2013, True Conservative Pundit has featured the insightful writing and reporting of Greg Holt.  His writing has been featured on American Prophet, Conservative Firing Line, DC Clothesline, Godfather Politics, Capitol Hill Outsider, Sons of Liberty Media, Rev. Austin Miles, and others.  Greg is also the Publisher and Editor of Inspirational Christian Blogs.
Subscribe to my daily newsletter, and join hundreds of daily readers and receive news and relevant commentary
Follow TCP on Facebook, Twitter, Pinterest, Social Cross and Gab